Wise Company Emergency Food Supply 84 Servings
Emergency Preparation For:
Job Loss
Illness
Injury
Food Shortage
Natural disaster or man-made disaster
Other emergency situations
Also great for:
Long-term food storage, camping, backpacking, hunting or fishing.
Included in product:
Savory Stroganoff (8 Servings)
Chili Macaroni (8 Servings)
Pasta Alfredo (8 Servings)
Creamy Pasta and Vegetable Rotini (8 Servings)
Teriyaki and Rice (8 Servings)
Cheesy Lasagna (8 Servings)
Hearty Tortilla Soup (8 Servings)
Apple Cinnamon Cereal (8 Servings)
Brown Sugar and Maple Multi-Grain (12 Servings)
Crunchy Granola (8 Servings)
Nutritious, Delicious and 100% Vegetarian.
Made in the USA.
*This statement has not been evaluated by the FDA. These products are not intended to diagnose, treat, cure or prevent any disease.
Bring 4 cups water to a boil, add contents of this package into boiling water and stir. Turn off heat cover and let stand for 12 to 15 minutes stirring occasionally. Uncover and let cool 2 to 3 minutes.
Savory Stroganoff

Chili Macaroni

Pasta Alfredo

Creamy Pasta and Vegetable Rotini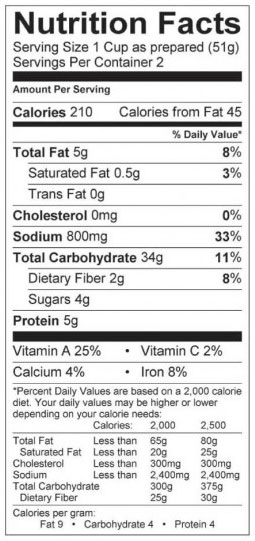 Teriyaki and Rice

Cheesy Lasagna

Hearty Tortilla Soup

Apple Cinnamon Cereal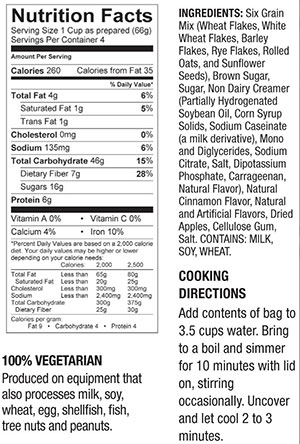 Brown Sugar and Maple Multi-Grain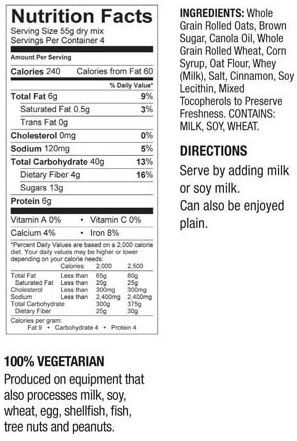 Crunchy Granola