A Probiotic that Supports Immune Health* Paradigm-changing probiotic produces a key immune system antioxidant.*
Reg'Activ IMMUNE & VITALITY* contains the revolutionary probiotic strain Lactobacillus fermentum ME-3. Studied for over 20 years, ME-3 produces glutathione - well known for its antioxidant, detoxification, and immune system-supporting activities.*
Glutathione is the body's "Master Antioxidant". It is used by every cell in the human body, and it's absolutely vital for immune health. Even in day-to-day life, immune system cells constantly interact with normal oxidative processes. These cells are big spenders when it comes to using the Master Antioxidant. They constantly rely on healthy glutathione levels for basic cellular upkeep.*
The IMMUNE & VITALITY* blend pairs ME-3 with Lactobacillus brevis KP08. That's a novel Japanese probiotic strain, which supports normal IFN-a production. Together, ME-3 and KP08 provide highly synergistic immune system effects-supporting both the health of immune system cells and their balanced activity.*
Reg'Activ IMMUNE & VITALITY* pairs these specialized probiotics with additional more familiar immune system nutrients:
L-Carnitine tartrate - Supports healthy energy levels*
Essential B vitamins - Additional support for healthy energy and metabolism*
Vitamin C - Well-known support for a healthy immune system*
Reg'Activ™ formulas utilize breakthrough probiotic research to create proven products that support your well-being.
Reg'Activ™ is a trademark of VF Bioscience USA.
L. Fermentum ME-3, a patented lactic acid bacteria strain, is used under an exclusive license agreement with the University of Tartu, Estonia.
*This statement has not been evaluated by the FDA. These products are not intended to diagnose, treat, cure or prevent any disease.
Directions: Take 2 capsules daily, 30 minutes before a meal or as directed by a health care professional. For optimal effects, maintain a balanced diet and healthy lifestyle. Consult your primary health care provider before using this product. For optimal digestive health, pair this product with Dr. Ohhira's Probiotics® Original Formula.*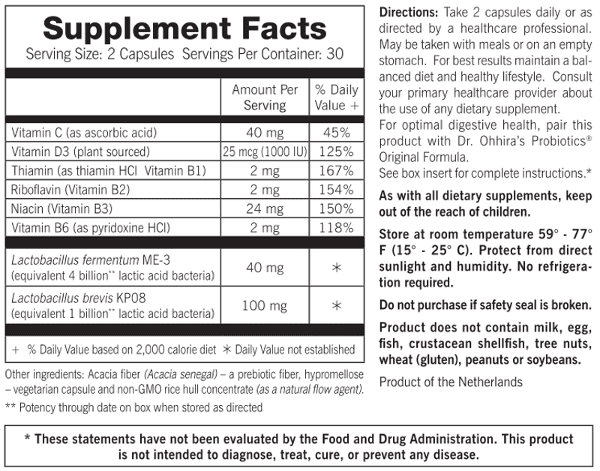 Other ingredients: maltodextrin, hypromellose and magnesium stearate.